Discover more from New Artisans
Harnessing the Power of Craft in an Age of Technology
Moving House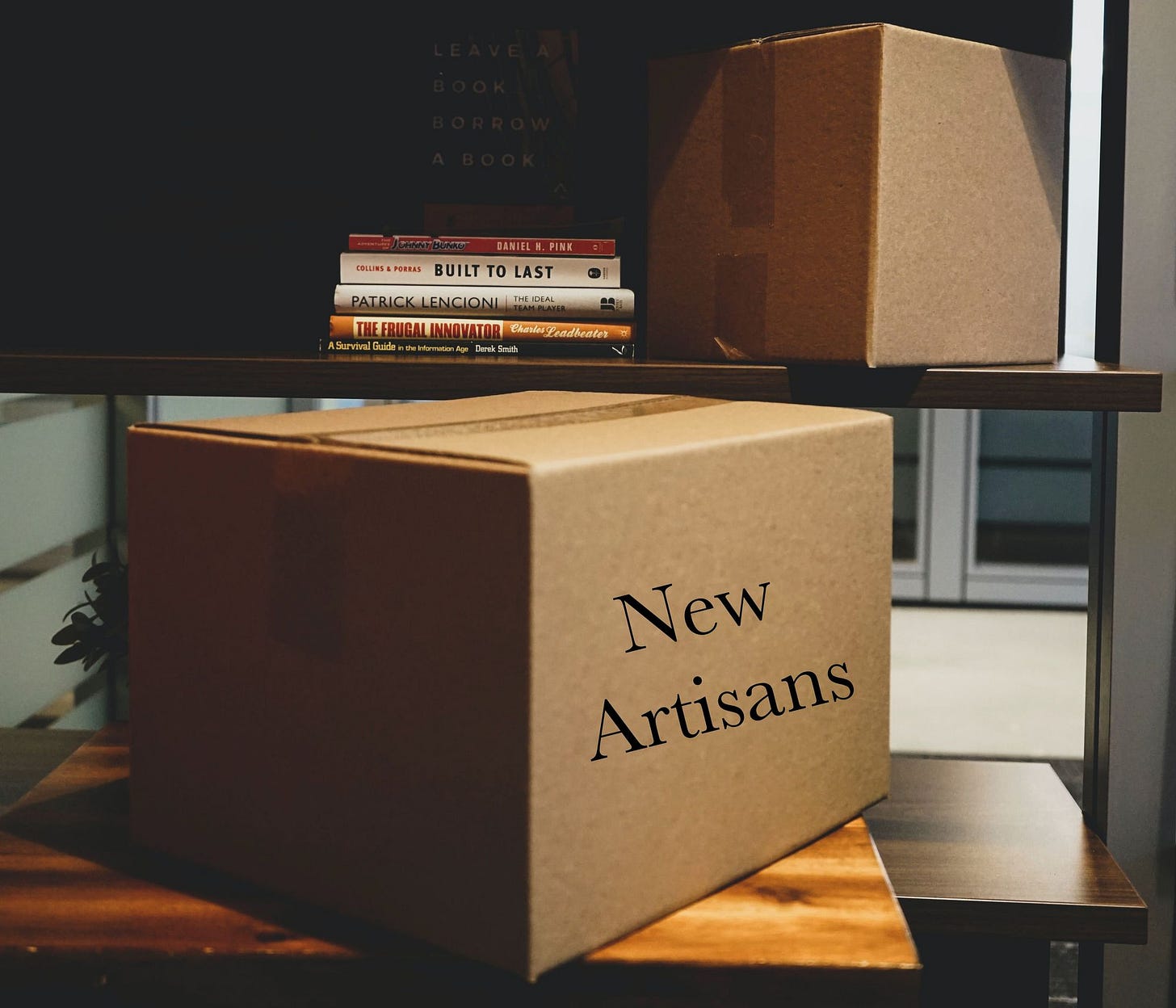 This has been a remarkable year. What started off in January as a container for an idea now seems to be filling up and needs a new, bigger container as it takes form.
Something a little different as we explore ideas and build something that can help people move from exploring the idea of artisans into developing artisanal practice, whether for themselves, their businesses or their clients.
To do that, I'm moving New Artisans from Ghost over to Substack to sit alongside the Reflections blog.
More about the admin of that in a moment, but first, what I have in mind.
Firstly, a free newsletter, published once or twice a month, depending on what is happening, to keep people up to date and provides ideas and information they can follow up for themselves. I envisage about 2-3000 words.
Secondly, a New Artisans Community to act as a hub for those who want a more involved relationship. It will carry a small monthly subscription - £5:00 -  and provide weekly updates, Zoom calls, chat, guest speakers, access to raw materials and research, as well as the archive, to help people develop their own practice in the company of others doing the same.
Thirdly, a new experiment. I want to create something tangible, ideally, a book, that records our journey over the next year and provides a template for a limited number of us - I have eight as an ideal number and not more than twelve - who want to create their own tailored communities of practice based on what we have learned.  I see this as a collaborative effort, with those who are part of the exercise as joint authors with the opportunity, if they wish, to have their own articles and ideas as part of it.  I would like us to produce something beautiful - a properly printed and bound collectors edition for those taking part, to go alongside other forms - certainly an e-book, and maybe if it warranted a paperback. I will ask for a small monthly subscription - £25.00 feels about right to cover the costs of research. I will not take any personal income from this and will share income and expenditure records. I see the benefit accruing to our individual practices and improving our income flows from there.
---
The Admin
Between now and 26th December, I will load and transfer all member details onto Substack. You may see emails advising of this as it happens, but in any event, I will send specific progress posts as we go.
All members who have paid for a subscription will have that subscription extended to the end of 2023. All others here will have complimentary paid access until the end of March 2023 to get an idea of what it looks like.
I will transfer the domain www.newartisans.net to Substack week commencing 26th December in order to be live by Friday, 30th December and close down the Ghost platform by the end of January.
If you want to see what is happening over the next couple of weeks as I set up the substack, you can sign up at https://newartisans.substack.com
If you have any questions, just drop me a line.
---
Community
Monthly Zoom. We had a very energised monthly Zoom on Wednesday as we discussed the exploratory nature of what we do, the need to hold it lightly and let conversations go where they want. That, I think, is an important lesson to take into next year.  
For interest, this post by James Gairdner, who some of you will know, shines a light on what we discussed.
Coming up. We have our conversation with Sue Heatherington on Wednesday 14th December, 6:00 pm UK time, into her work on the nature and practice of "Quiet Disruption". It promises to be, as ever with Sue, a great conversation.
---
A Personal Reflection
At the end of the lockdowns, it was clear that the way people work would change. Not just how they worked but who they worked for, with, and why. I had no idea what that would look like, so I started New Artisans to notice and think out loud in the company of others.
What comes next is a continuation of that intent. I am fortunate in that I do not have to rely on an earned monthly income, which gives me the freedom to take some professional risk in finding out what works and doesn't as we all explore ways of becoming artisans more in charge of our own destinies. I have always had something of the Trickster, the Fool at Court, and the Heretic in me. This is good exercise for those archetypes, and I hope they might enable me to shine a small light into the corners of what is emerging.